Information for Visitors
Visiting Guidelines
As a part of family-centered care, it is the policy of St. John's Hospitals to provide safe visitation and support of its patients by: family, healthcare decision maker(s) and the spiritual support/leader of their choosing. It is the responsibility of all hospital staff to make sure that visitation is family centered and safe. Visitation must be consistent with patient wishes, the Health Information Portability and Accountability Act (HIPAA) and must not jeopardize the safety of patients, staff, volunteers or the community. Consistent with state and federal law, the Hospitals acknowledge a patient's right to designate who their visitors should be and to limit their own visitation. The Hospitals also will not deny or limit the privilege of visitation based on race, color, national origin, ethnicity, religion, gender, gender identity, sexual orientation/preference, disability or financial ability to pay. The Hospitals' limitations on visitation must be reasonable or clinically necessary in medically appropriate circumstances (e.g. when a patient is undergoing tests or care interventions, infection control issues, or when visitation may interfere with the care of patients).

Visiting Hours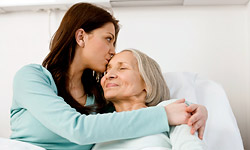 Visiting that is conducive to the healing and comfort of the patient is allowed 24/7 as appropriate to patient care and privacy. Visiting hours in some specialized areas in the Hospitals differ from general guidelines.
Number of Visitors
The number of visitors will be appropriate to the patient's wishes and needs. Different units throughout the Hospitals may have varying guidelines on the number of visitors that may be present in the patient's room at one time, especially Critical Care (e.g. ICU, CCU, NICU) and L&D, ER, Rehab and Subacute. In general, the unit policy should be followed, however, should the number of visitors impede care or negatively impact other patients, the number of vistors may be decreased and visitors will be asked to leave and if necessary removed from the area.
General Visiting Guidelines
At St. John's, we encourage family members to visit their loved ones in the hospital. To ensure the safety of all our patients, please observe the following:
If you are ill, have a fever, cough, diarrhea, rash, sore throat, or runny nose, we ask that you please do not visit. Instead, please call the hospital and ask the operator to connect you to the patient.
All visitors must wash or gel their hands upon entering the hospital, before and after visiting the patient, and upon exiting the hospital. In addition, staff may ask you to wear a mask or gown.
Please limit the number of children you bring in to the patient room with you to one child at a time. Please have other children wait in the waiting area with another adult to watch them. Please note that we are unable to provide supervision. Children under the age of 16 must be accompanied by an adult at all times.
In the Intensive Care Unit, Coronary Care Unit and Neonatal Intensive Care Unit, children under the age of 16 must receive approval from the unit's nurse manager prior to entering a patient's room.
Children under the age of 12 may not visit patients in isolation for their safety.
Patients have the right to restrict visitation to their rooms. Please respect our patients' desire for privacy.
Children

For their own safety and the safety of our patients and other visitors, minors under the age of 16 years old cannot be unattended and unsupervised in the hospitals so they must be accompanied by an adult at all times – no playing or wandering in the hallways. See Infection Prevention and Control below for limitation on minors visiting isolation patients.
Infection Prevention and Control
For the protection of patients and the staff caring for them, visitors with fever, rash, cough or other signs of infectious illness should not visit. All visitors are expected to clean hands when entering or leaving a patient room and to cover coughs and sneezes with a tissue, elbow or sleeve.
It is the responsibility of staff to monitor and inform visitors of all pertinent guidelines, including infection control requirements: such as following isolation requirement, do not use patient's shower or toilet, do not sit on patient's bed, do not touch patient equipment, and to wash hands or use alcohol hand sanitizer when entering/leaving the room.
Patients in isolation for an infectious condition may have visitors, provided they are willing and able to follow infection prevention precautions. Visitors are expected to wear personal protective equipment and to diligently wash their hands upon entering and exiting the patient's room. Minors under the age of 12 cannot effectively wear PPE and should be excluded from the rooms of isolation patients.
During periods of increased risk, visitors may be restricted due to community epidemiology and/or other infection control concerns. There restrictions may be applied to a single unit (e.g. NICU during period of increased community RSV activity) or hospital-wide (e.g. likely community outbreak of flu or seasonal flu).
The Hospital's Administration, the Infection Control Chair or their designee is authorized to institute restrictive measures specific to the disease risk, up to and including restricting all visitation. These restrictions may or may not be in conjunction with activation of the Hospital's disaster or surge plan.
Security
Problems should be communicated to the Security Department immediately upon identification. Security will also perform rounds to faciliate compliance with visiting hours.