Rehabilitation and Therapy
Inpatient Rehabilitation: Comprehensive, Specialized Care
St. John's Inpatient Rehabilitation Center
St. John's 23-bed, accredited acute rehabilitation center, located on the fourth floor of St. John's Regional Medical Center (SJRMC), offers comprehensive multidisciplinary rehabilitation programs and services specifically designed for individuals who have experienced a serious illness or injury, including, but not limited to:
Brain injury,
Stroke,
Spinal cord injury,
Amputation,
Multiple trauma,
Pulmonary difficulties,
Neurological difficulties,
Pain,
Arthritis or
Pediatric illness/injury.
The center coordinates the talents of different types of healthcare professionals to maximize physical and psychological recovery. It also offers bilingual programs.
The Inpatient Rehabilitation Center at SJRMC provides patients with quality, inpatient rehabilitation services. It is the beginning of the recovery phase for adults and children who have experienced a recent injury or illness. In this recovery phase, patients are assisted with restoring their maximum levels of strength, movement, and independent functioning.
Call (805) 988-2500 Ext. 7265 for more information about St. John's comprehensive inpatient rehabilitation services.
Outpatient Therapy Centers: Our Mission Is Your Wellness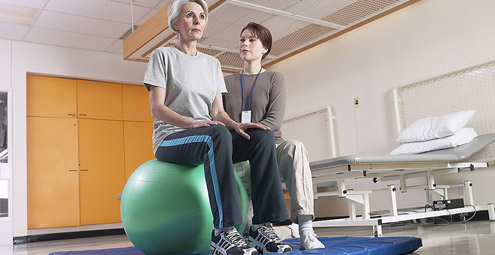 Who We Are
St. John's Outpatient Therapy Centers provide comprehensive outpatient rehabilitation services. Our Centers are for people who are experiencing pain and/or a loss in functional ability due to an injury or illness. We assist people with reducing pain and restoring their maximal levels of strength, movement, and independent functioning.
Our Team Approach
Our staff members work together to evaluate each client's needs, establish treatment goals, and coordinate an effective treatment program. The treatment team may include, depending on the client's needs, the following:
Physical Therapist – assists clients in regaining strength, fl exibility, endurance and mobility.
Occupational Therapist – assists clients in regaining ability to perform day-to-day living activities such as bathing and dressing.
Speech Pathologist – assists clients in restoring function in the areas of speech, language, swallowing, and cognition.
Our Philosophy of Care
At St. John's, our focus is on the client and their needs. We realize that no two conditions are exactly alike, and no two people respond to exactly the same therapy. That is why we create an individualized treatment program that is best suited for each client.
Specialty Programs We Offer
Arthritis
Cardiac and Pulmonary
Cognitive Rehabilitation
Ergonomic Job Site Analysis
Hand Therapy
Headache
Lymphedema Program
Neurological Rehabilitation
Orthopedic Rehabilitation
Pediatric Rehabilitation
Post-Surgical Cancer
Postural Training
Sports Medicine
Swallowing Disorder/Vital Stim Temporomandibular Joint (TMJ) Dysfunction
Urinary Incontinence
Vestibular and Balance Rehabilitation
Vision Therapy
Our Results
How do you measure a successful rehabilitation program? Most people measure it by the number of satisfied clients. Our clients and families rate us 3.9 on a 4 point satisfaction scale, where 4 is excellent.
Referral Process
We accept referrals from physicians, case managers, insurance companies, discharge planners and other healthcare professionals. For more information or to make a referral, please call us at one of our Centers listed on the Contact Us section of this page.
If you wish to pay privately, clients can call us directly without a referral from a healthcare professional.
Program Coverage
Most insurance plans cover our services. Our facility is an approved provider for Medicare and Medi-Cal. We handle the admission authorization from insurance companies.