Neonatal Intensive Care Unit (NICU) at St. John's
St. John's Neonatal Intensive Care Unit (NICU)
Chances are that your baby will be perfect in every way, but it's comforting for new parents to know that St. John's Regional Medical Center in Oxnard has a neonatal intensive care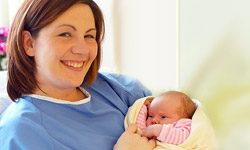 unit (NICU). The NICU is a sixteen-bed facility offering innovative services, including ventilator support to infants in need.
NICU nursing staff attends high-risk deliveries and cesarean sections, and the NICU has the capability of stabilizing all cesarean section babies in the unit. Dr. Catherine Ekwa-Ekoko, the medical director of the NICU, and our team of neonatologists are on call to support the NICU 24 hours a day, seven days a week.
Our family-focused philosophy extends into the NICU, where family members and siblings are encouraged to participate in the baby's care during individually arranged visiting times. If you are discharged from the hospital while your baby remains in the NICU, there are limited overnight facilities available for you and your family. Please talk to your nurse for more information. Family togetherness remains our first priority.
Neonatal Intensive Care Unit at St. John's Regional Medical Center
(805) 988-2664