Happy Family Store Brand Review by St. Johns Health
Disclaimer: The information presented in this review has been extensively researched and written by a team of independent reviewers, ensuring that the content is impartial and based solely on their findings. It is important to note that the opinions expressed do not necessarily reflect those of St. John`s Health.
---
In This Review: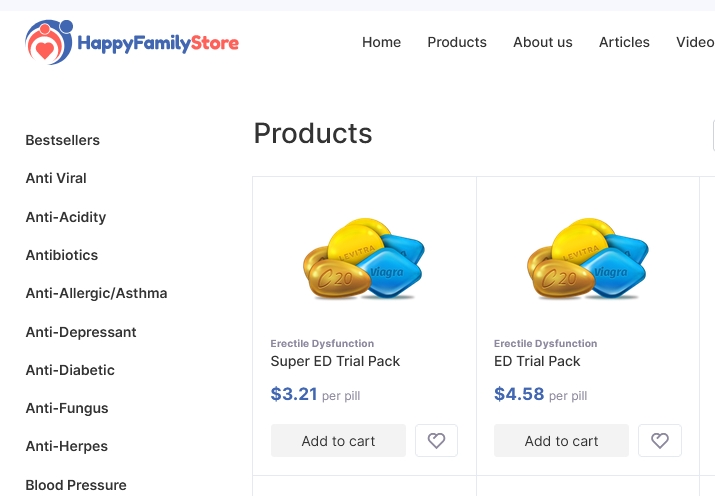 ---
Major Highlights
Here are some key points to consider when evaluating Happy Family Store
HFS has received accreditation, which suggests they meet the minimum standards for dispensing medications and take customer safety into account.
The pharmacy has a variety of options for prescription medications, including both generic and brand-name drugs. However, it is important to note that the selection may not be as extensive as other pharmacies.
While HFS online pharmacy accepts insurance for brand-name prescriptions, they do not accept insurance for generic medications, which may limit options for customers looking for more affordable options.
HFS offers free home delivery for prescription medications, which can be a convenient option for customers. However, it is worth considering that delivery times may vary depending on the location and availability of medications.
In conclusion, Happy family store available at myhappyfamilystore.com may be a reliable and adequate option for those in need of prescription medications, but customers may want to compare prices and selection with other pharmacies before making a final decision.
---
Pros and Cons
Pros:
HFS provides the convenience of online consultations for new prescriptions, which can save time and effort for those with busy schedules or mobility issues.
The pharmacy offers a price-match guarantee, ensuring that customers get the best possible prices for their prescription medications.
Prescription delivery is available in all 50 states, making it easier for customers to receive their medications without leaving their homes.
Cons:
Insurance cannot be used for generic medications purchased through Happy Family Store, which may be a disadvantage for those who rely on insurance coverage to help offset the cost of their medications.
Availability of online consultations varies depending on the customer's medical condition, age, and location, which may limit accessibility for some.
There is no express delivery option available for prescription medications, which may be a disadvantage for those who require their medications urgently.
---
Read a Few Customer Reviews from Trustpilot
One way to evaluate the quality of service offered by this store is to examine customer reviews. In this regard, HFS has been reviewed by customers on Trustpilot, a well-known review platform. In this section, we will discuss both negative and positive Happy Family Store reviews on Trustpilot.
Positive reviews:
Negative Reviews:
To summarize, the reviews of Happyfamilystore on Trustpilot present a diverse perspective. While a significant number of customers have praised the store for its exceptional service, fast delivery, and competitive pricing, some customers have expressed dissatisfaction with the quality of products and the efficiency of the customer service. As a prudent shopper, it is crucial to consider both positive and negative feedback before making a purchase decision. Ultimately, it is up to each individual to evaluate the strengths and weaknesses and make an informed choice.
---
Is a Prescription Required to Order Medications from Happy Family Store?
Yes, a valid prescription is required in order to obtain medications from HFS Pharmacy. The online store has a specific page on its website detailing how healthcare providers should submit prescriptions for their patients, including through electronic means, phone, or fax.
If you have any questions about your prescription, Happy family pharmacy provides the option to speak with a pharmacist over the phone by calling 243-74-06. Additionally, for those who have a subscription with HFS, they can utilize a messaging portal on the platform to consult with a doctor at any time.
It is crucial to keep in mind that acquiring prescription medications without a valid prescription is considered illegal in the United States. While certain online pharmacies may advertise the availability of medications without a prescription, it is imperative to only seek out trustworthy and lawful sources for your healthcare requirements. By following the appropriate procedures and collaborating with licensed healthcare professionals, you can guarantee the safety and effectiveness of the medications you obtain through HFP.
---
Medication Cost Comparison with other USA Pharmacies
| Name | Doses / Quantity | Happy Family Store Price | US Pharmacy Price |
| --- | --- | --- | --- |
| Cialis | 40mg, 12 tablets | $28.00 | $415.14 |
| Viagra | 100mg, 30 tablets | $49.99 | $733.20 |
| Amoxicillin | 250mg, 60 tablets | $37.99 | $240.30 |
| Ivermectin | 3mg, 30 tablets | $81.89 | $482.54 |
| Stendra | 50mg, 12 tablets | $47.99 | $326.50 |
| Levitra | 20mg, 20 tablets | $37.60 | $537.28 |
| Zithromax | 250mg, 60 tablets | $68.99 | $380.65 |
Upon analyzing the cost of medications offered by HFS and comparing them with other online pharmacies and physical stores in the United States, it seems that their prices are relatively lower than those of many U.S. pharmacies. However, it is important to note that their prices are not significantly lower to the point where it seems too good to be true.
---
What Conclusions Can Be Drawn?
In addition to the information already provided, there are some other key points to consider when evaluating Happy Family Pharmacy (HFP):
Wide Range of Products: As mentioned earlier, HFS offers a wide selection of products, including vitamins, supplements, and over-the-counter medications. This is a significant advantage for customers who prefer a one-stop-shop for all their healthcare needs.
Customer Service: The majority of customers appreciate the knowledge and friendliness of HFP's staff. However, there have been reports of some employees being rude or unhelpful, which could potentially tarnish the store's reputation.
Delivery Services: HFS offers delivery services, which is a convenient option for customers who are unable to visit the store in person. This is particularly useful for customers who require prescription medications on a regular basis.
Pricing: While HFS has been praised for its competitive pricing, some customers have reported issues with pricing, finding that similar products are available at lower prices elsewhere. This could potentially drive customers away and impact the store's profitability.
Online Presence: HFS has a website where customers can place orders for delivery or pickup. However, there have been reports of some customers experiencing difficulties with website orders, which could impact the store's online reputation and customer satisfaction.
In summary, Happy Family Store has both positive and negative aspects. While the store offers a wide range of products, delivery services, and generally good customer service, there have been reports of negative experiences with staff and pricing, as well as some issues with website orders. Overall, it is important for HFS to address these issues to ensure customer satisfaction and maintain a competitive edge in the market.