Dignity Health Locations & Facilities
We understand there are several factors that you'll consider when deciding to take a new practice opportunity. For that reason we invite you to explore this site to learn all about CHW, our hospitals and the quality of life each of our communities offers.
With 42 hospitals and medical centers in California, Arizona and Nevada, we have a range of locations so you can find the perfect match for your career and your life.
Visit the links below and take a tour of the various CHW locations.
Arizona | California | Nevada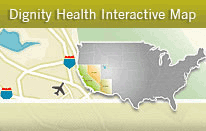 Explore all of our facility locations
Use our interactive map to locate CHW facilities in California, Arizona, and Nevada
Arizona
Phoenix Area
Chandler Regional Hospital, Chandler
Mercy Gilbert Medical Center, Gilbert
St. Joseph's Hospital and Medical Center, Phoenix
California
Northern California
Central California

Central Coastal Area
Arroyo Grande Community Hospital, Arroyo Grande
French Hospital Medical Center, San Luis Obispo
Marian Medical Center, Santa Maria
St. John's Pleasant Valley Hospital, Camarillo
St. John's Regional Medical Center, Oxnard

Bakersfield Area
Bakersfield Memorial Hospital, Bakersfield
Mercy Hospitals of Bakersfield, Bakersfield
Mercy Southwest Hospital, Bakersfield

Southern California

Los Angeles Area
California Hospital Medical Center, Los Angeles
Community Hospital of San Bernardino, San Bernardino
Glendale Memorial Hospital, Glendale
Northridge Hospital Medical Center, Northridge
St. Bernardine Medical Center, San Bernardino
St. Mary Medical Center, Long Beach

Nevada
Reno Area
St. Mary's Regional Medical Center, Reno

Las Vegas Area
St. Rose Dominican Hospitals – Rose de Lima Campus, Henderson
St. Rose Dominican Hospitals – San Martin Campus, Las Vegas
St. Rose Dominican Hospitals – Siena Campus, Henderson