For You & Your Family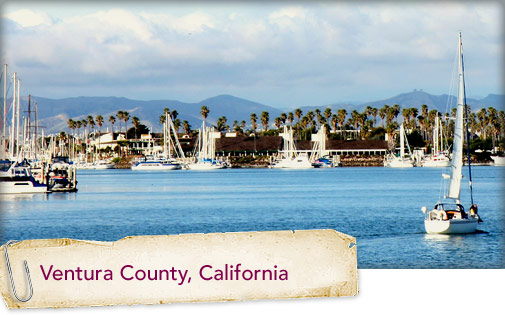 About Ventura County
Known for its beautiful beaches, expansive strawberry and agricultural fields, rolling hills, and cultural diversity, Ventura County is an excellent place in which to live and work. Each of Ventura County's many communities offers small town charm with unique coastal settings and thriving business communities. Located halfway between Santa Barbara and Los Angeles, Ventura County puts residents close to wonderful locations, attractions, and activities.
Oxnard
The charming seaside community of Oxnard strikes a successful balance between its agricultural heritage and a dynamic modern outlook. This well-kept destination secret enjoys a mild year-round climate and features seaside beauty, a patchwork of crops and orchards along a narrow coastal plain, Victorian homes, and vibrant business and shopping districts. This city by the Pacific Ocean with its culturally diverse flavor is an ideal place to raise a family and run a business.
Camarillo
Camarillo is Ventura County's fifth largest city, with approximately 65,000 residents, rolling hills, strawberry fields, and a thriving business community. Camarillo is surrounded by picturesque mountains and hills and highly productive agricultural land, and is only 15 minutes from the Pacific Ocean. Residents enjoy a mild year-round climate perfect for outdoor activities.
Ventura
From rolling hills to sweeping ocean views, reminiscent of a European seaside village and compared to Hawaii's mainland; the City of Ventura is located 63 miles northwest of Los Angeles and 30 miles south of Santa Barbara. Its warm Mediterranean climate and wonderful quality of life are a few of the reasons many call Ventura home. Ventura artfully melds thriving family owned businesses with high-tech enterprises.
Thousand Oaks
The City of Thousand Oaks, 12 miles inland from the Pacific Ocean, is nestled against the Santa Monica Mountains and surrounded by thousands of acres of natural publicly owned open space. Thousand Oaks is home to the world-renowned Thousand Oaks Civic Arts Plaza, which is a focal point in the community and is also home to City Hall and a five-acre park. This family-friendly community, often named one of the safest cities for its size in the nation, prides itself on volunteerism to create a better world for future generations.
Popular Attractions
Like the outdoors? Ventura County is perfect for a wide array of outdoor activities, including surfing, sailing, kayaking, canoeing, house boating, fishing, camping, golfing, swimming, scuba diving, whale watching, and hiking, to name a few of the most popular activities. Check out our Recreation section for more information.
Enjoy culture? Ventura County has its own world-renowned symphony and performing arts center and is known for its rich and colorful festivals throughout the year, including annual music, food and wine, jazz, multicultural, and strawberry festivals as well as county fairs and shows for the whole family. You can also visit museums, enjoy the theatre, and learn about Ventura County's rich history through its historical architecture and libraries, including the Ronald Reagan Library. Check out our Recreation section for more information.
Nearby Attractions
Ventura County is located about 45 – 60 miles from downtown Los Angeles and about an hour from Santa Barbara. Entertainment abounds at places like Disneyland, Universal Studios, Knott's Berry Farm, Six Flags Magic Mountain, The Getty Museum, the Hollywood Bowl, Disney Hall, the Santa Barbara Museum of Art and History, the Santa Barbara Zoo, the Santa Barbara Bowl, and much more.
Learn More About Ventura County
Use the links below to find more information about this area.
Maps of Ventura County
City of Oxnard
Additional Links
Airports South of Ventura County
Bob Hope Airport in Burbank
Los Angeles International Airport